Copper Clad Steel Wire
Copper Clad Steel Wire is simplified as ccs wire or ccs, made of mild steel wire with special surface treatment of copper cladding.
Comparing with pure copper wire, copper clad steel wire has the following benefits: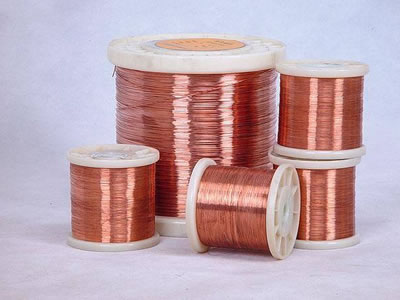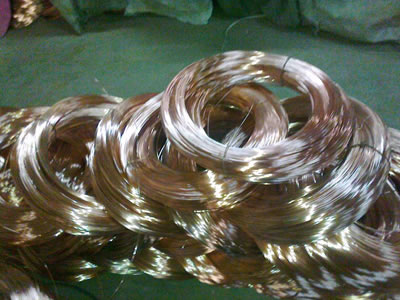 1. High intensity: CCS wire has 2 times higher tensile strength than pure copper wire.
Pure copper wire is about 215 to 265, then CCS wire can reach 430 to 530.
2. Light weight: lighter 13% than pure copper wire. Under the same wire size and
weight, its length is 1.13 times than that of pure copper wire. So buying 1 ton of CCS wire is the same as buying 1.13 tons' pure copper wire.
3. Saving cost: CCS wire price is just 35% of that of pure copper wire, while its surface quality is the same with pure copper wire.
4. Using of copper cladding steel wire will reduce greatly the production cost while guaranteeing the same quality as pure copper wire.
Property of Copper Cladding Steel Wire:
Good corrosion resistance of copper
High tensile strength of steel
Decreased electrical resistance compared to steel
Much lower impedance at high frequencies than that of steel wire alone
Copper Clad Steel Wire (CCS Wire) finds the following popular applications:
1,Inner conductor of terminal CATV coaxial cable
2,Conductive cord of user communication cable for double conductor telephones.
3,Plug-ins for electronic components.
4,Conductive cord of field wires.
5,Overhead system for power transmission and telephone lines.
6,Overhead-contact systems for railway and Light Rail Transit.
7,Braided shield wire of power cable.
8,Earthing pole for electrical power industry.
Technical Details of Copper Clad Steel Wire:
Material for producing ccs wire: low carbon steel or high carbon steel.
Wire Diameter: 0.20mm –4.88mm
Tensile strength: Low carbon min 350N/mm2; High carbon min 1100N /mm2 or above.
Conductivity : 21% IACS, 30% IACS, 40% IACS or as per client's requirement.
Packing : in coils or on reels/spools.
Specification: ASTM B910, BS4087 etc.
Application: Wire cable for telephone, telegraph etc.
Packing Spool size:
DIN130mm, DIN160mm, DIN185mm, DIN250mm, DIN400mm, DIN500mm, DIN630mm, DIN800mm